Georgia is a great choice for a wedding because of its cultural heritage, magnificent scenery, and unique atmosphere. This country can offer you a lot of options for your big day, but there is not enough time and energy to go through them all. Therefore, we have analyzed the most popular wedding packages in Georgia and come to the conclusion that to understand the offer they can be conditionally divided into five groups:
Budget wedding. An ideal choice for those who dream of a beautiful but economical wedding. The package includes the basic services required for the ceremony and gives you the opportunity to celebrate your special day in the atmosphere of Georgian coziness and hospitality.
Wedding with an off-site ceremony. For those who dream of saying "I do" against the backdrop of Georgia's unique landscapes. Enjoy the moment under the open sky and surrounded by loved ones.
Mountain wedding. If you've always dreamed of having a wedding among the mountaintops, this package is for you. Spend your special day in the heart of the Georgia mountains, with incredible panoramas all around.
Lake wedding. Experience romance by celebrating your wedding in a crystal clear Georgian lake. The perfect location for a nature and relaxation wedding.
All-Inclusive Wedding. A complete package that provides everything from A to Z: from transportation services to banquet and entertainment programs. Suitable for those who want everything to be perfect and hassle-free.
Each of these packages may have its own nuances and peculiarities depending on the agency with which you cooperate. If you are interested in more specific figures, let's look at the example of the wedding agency "Shu Wedding", which is engaged in organizing weddings for foreigners in Georgia.
Wedding packages from "Shu Wedding"
Budget wedding in Georgia – 450-525 dollars*.
This package includes everything necessary for perfect organization and registration of marriage in the capital of Georgia – Tbilisi:
Individual organization of registration – all details of registration will be taken into account and provided at the highest level.
Consultation and support from an experienced wedding organizer for the official registration of the marriage, who will help to understand the intricacies of local legislation.
Translation and notarization of passport for all formalities.
Applying for marriage registration – all documents will be completed and submitted in a timely manner.
Provision of witnesses – if you need witnesses at the ceremony.
Services of a professional interpreter for the wedding ceremony so that all participants of the event understand every word.
Fast translation of the marriage certificate into English with apostille – in just 4 working days or even 1 working day of your choice.
Transfer to the marriage registration venue – comfort and timeliness for the couple.
Thus, by choosing this package, you can be sure of a flawless marriage registration without unnecessary worries and problems.
*An option to help with the legalization of your marriage certificate is available.
Weddings with an off-site ceremony – from $2450.
Immerse yourself in the atmosphere of magic and romance by organizing your wedding in the picturesque corners of Georgia. This package offers a range of services to make your celebration flawless:
Official off-site marriage registration – an unforgettable ceremony in the open air or in a historic location of your choice.
Ceremony décor – creating a unique atmosphere and styling the venue according to your preferences.
Make-up and hair services – emphasize your natural beauty and harmoniously complement your image.
Bouquet and boutonniere – floral accents that will add bright colors and style to your celebration.
Photo session for 3 hours – your best moments will be captured by a professional photographer on the background of Georgian landscapes.
Video shooting for 3 hours (including camera and drone) – live emotions and stunning angles from the air to preserve your memories for years to come.
Transfers – comfortable transportation from your accommodation to and from the ceremony venue.
By choosing this package, you get the perfect combination of tradition and personalized attention to make your wedding truly unforgettable.
A wedding in the Georgia mountains – from $2,345.
Imagine a wedding with a backdrop of majestic mountain peaks and crystal clear mountain air. The Georgia Mountains are the perfect setting for a breathtaking ceremony. Here is a package created especially for such an unusual and romantic event:
Formal ceremony in Tbilisi – immerse yourself in the unique atmosphere of the Georgian capital by choosing one of the city's historic venues or a modern hall for your wedding.
Makeup artist and hairdresser services – even in the mountains you will look flawless thanks to the work of professionals.
Photo session for 6-7 working hours – amazing landscapes of the mountains will be an ideal background for bright and emotional wedding pictures.
Bouquet and boutonniere – inspired by mountain nature, they will add a unique flavor to your celebration.
Marriage certificate preparation for your country – even at this altitude we will not forget about formalities so that your marriage will be recognized everywhere.
Wedding day transfers – comfortable transportation through the mountainous terrain to make your ceremony hassle-free.
This package is a chance to make your wedding truly extraordinary, on top of the world, surrounded by the majestic mountains of Georgia.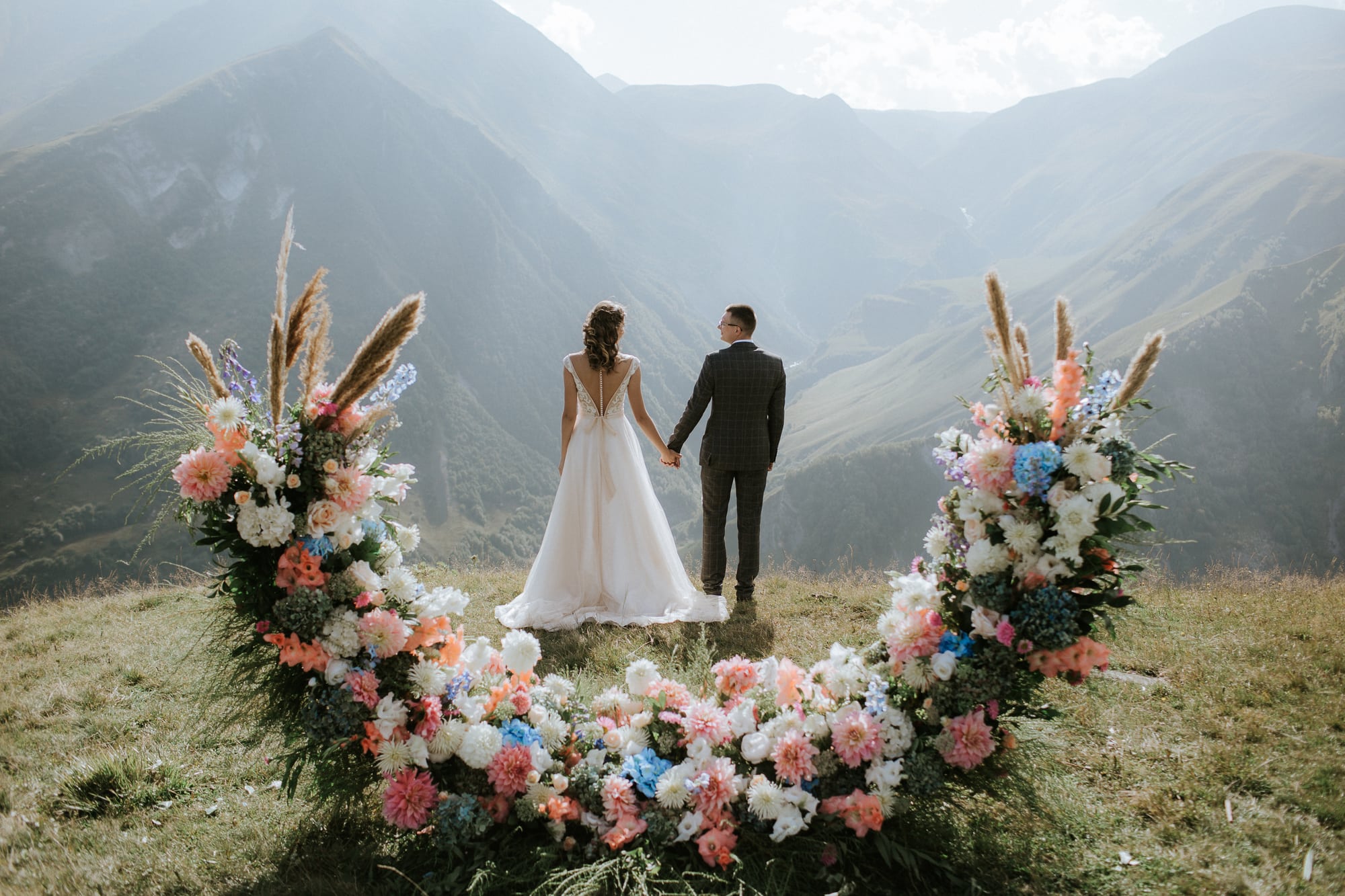 Lake wedding – from 2500 dollars.
Kvareli Lake and Lopota Lake locations are picturesque corners of Georgia, where every sound of water, and every fluctuation of the water surface creates a unique atmosphere. Choose one of these lakes for your wedding and immerse yourself in the magic of nature.
Pier rental is an exclusive place for your lakeside ceremony.
The wedding ceremony decor is sophisticated and stylish, which will harmonize with the natural landscape of the lake.
Makeup and hairstyle for the bride – professional stylists will take care of your unique image.
Bouquet for the bride and boutonniere for the groom – inspired by the beauty of Georgian lakes, they will become an exquisite accent of your image.
Photo session for 6 hours – capture the brightest moments of the day against the background of breathtaking scenery.
Organization from the agency – your desires and dreams will be realized to the last detail, thanks to the experience and professionalism of the team.
Lake wedding package will give you the opportunity to enjoy the beauty and privacy on the shores of one of the most picturesque lakes in Georgia, making your celebration truly special.
Turnkey weddings starting at $2,990.
Choose the «All-Inclusive» package for those who want to enjoy their celebration without the hassle. This package will make your dreams come true by providing a fully immersive wedding experience.
A formal ceremony in a unique location – choose a breathtaking mountain location or a tranquil lake to host your ceremony.
Ceremony with author's décor – professionals will create a unique atmospheric decoration reflecting your personality.
Makeup artist and hairdresser in Tbilisi – will create the perfect image for you, taking into account all your wishes.
Photographer for 6-7 hours of shooting – will capture all the key moments of your day, leaving vivid memories for years to come.
Bouquet and boutonniere – handmade by masters who will turn fresh flowers into art.
Preparation of the marriage certificate for your country – we will take care of all the nuances so that the legal part is flawless.
Wedding day transfers: comfort and safety on the way to and from the ceremony venue.
By choosing the "All Inclusive" package, you will get a full range of services to make your wedding day unforgettable and go exactly as you dreamed.
As you can see, Georgia gives you the opportunity to hold a wedding for every taste and budget. If you want to know more complete information about the services that are included in the wedding package or possible additional conditions, then contact the specialists of the wedding agency "Shu Wedding".